When you sign up for a HetrixTools account, our system will create a 'Default Contact' contact list, which you can find by going to your 'Contact Lists' page:

This default contact list will only contain the email address that you have registered with. However, you can edit this contact list in order to change its name and add/remove any contact methods that you desire.
Editing the contact list is quite simple; just click on the pencil icon under the 'Actions' column:
When adding new monitors to our platform, this 'Default Contact' contact list will be automatically assigned to them.
However, you can create any number of additional contact lists, which you can then assign to different monitors to fit your notification needs (ie, you may want some of your monitors to notify certain people in your organisation, while other monitors to notify just you; etc).
Changing the contact list of any of your monitors is extremely simple, just click the contact list name and select the new contact list name from the drop-down menu: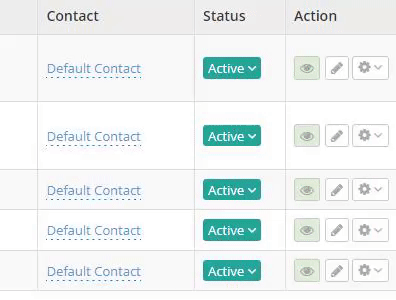 You can even change the contact list of multiple monitors at once, by using Group Actions:

At this time, each one of your monitors can only have one contact list attached to it.
While Blacklist Monitors always require a contact list assigned to them, your Uptime Monitors accept having no contact list. In such cases, no uptime notifications are sent to those monitors that have no contact list attached to them.