You can access your account settings by clicking on your name or avatar in your client area.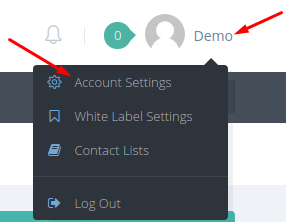 On your Account Settings page you'll have multiple Tabs:
Account
Blacklist Monitor
Password
Public Key
API Access
Close Account

On the Account tab, you can configure the following account information:
Your Name
Your Email (please note that if you change your account's email, you will need to verify the new email address)
Your Company Info – in case you need your Company's information to be displayed on your invoices, be sure to fill it out in here
Enable/Disable Tips – this setting is enabled by default, and it determines whether or not you are occasionally shown helpful tips on the top right side of the screen when you're browsing through your client area on our platform. We recommend you keep this enabled, as these helpful tips will teach you how you can use our platform more efficiently, and they aren't intrusive and won't disrupt you from your work.
Please note that our platform does not support username changes.
We'll go through all of the other settings more extensively in separate articles in our documentation.