[September 1, 2017]
We're reducing the price for our SMS Credits even further, to a flat fee of only $0.10 (10 cents) per SMS Credit.
Furthermore, this will be the standard price no matter on which package you are on, as opposed to how it used to be before, when you'd get a certain discount for SMS Credits based on your current package.
Here's a small comparison of the Old and New SMS Credit prices, based on what package you are on: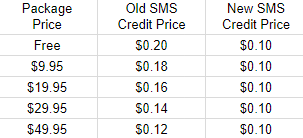 Please note that this change does not affect the number of monthly SMS Credits included in your package, it only affects the price for buying extra SMS Credits.
These changes come into effect starting with 1st of September 2017.