The guide below is outdated, as we no longer accept Bitcoin payments via Stripe. If you wish to pay your invoices with BTC or ETH, please contact our billing department by opening a support ticket on our website.
[DEPRECATED]
If you wish to pay for your invoice using Bitcoins, you can do so by selecting Stripe as your payment method from the invoice page.
Please note that the default payment method is going to be PayPal, so if you wish to pay via Stripe, you will need to select it from the drop-down payment method selection menu:

Once you've made the selection, the Stripe payment buttons will appear.
To make a payment using Bitcoins, click the "Pay via Stripe" button:

On the pop-up window, be sure to select Bitcoin: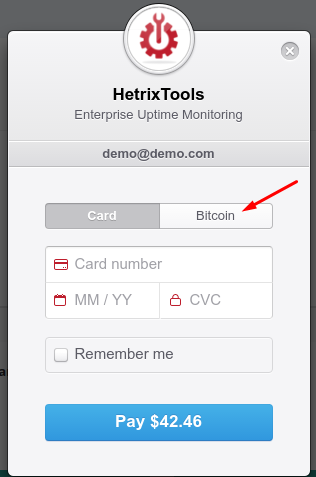 Then simply follow the instructions on the screen.
Please note that you cannot create a subscription using Bitcoins.