This feature is included for free in our Uptime Monitor service.
When monitoring the uptime of a target that contains a domain name, our system will try to determine the domain's expiration date.
This is enabled by default. There are no extra settings you need to configure.
Once you've added the Uptime Monitor containing the domain name:
it can take up to 15 minutes for our system to find your domain's expiry date
it can take up to 24 hours for our system to refresh your domain's expiry date, once it finds one
some TLDs do not show expiry dates, in which case our system will not be able to monitor your domain's expiration date
The domain's expiration date will be available in your Uptime Monitors list by clicking the Uptime Monitor name:

A modal will open containing further information about your Uptime Monitor, including your domain's expiration date: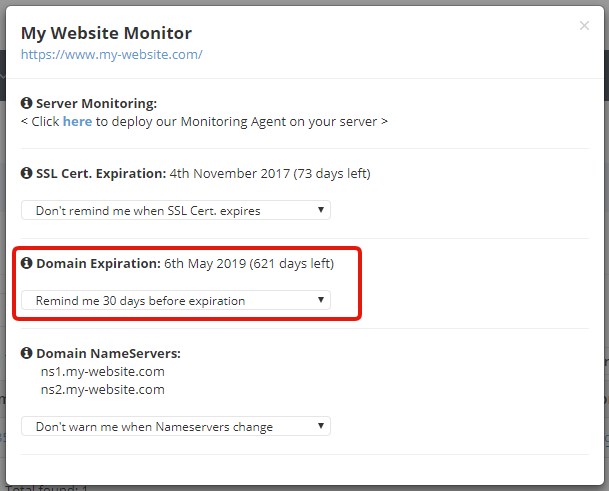 If your domain is about to expire, a small warning sign will appear next to your Uptime Monitor in order to alert you about it:

*The small warning icon will also change colors depending on how many days are left until your Domain expires, varying from orange (less than 30 days) up to red (less than 15 days), so you can easily notice the ones which are going to expire soon.
You can also choose to get notified by our system, starting with X days before the expiration date.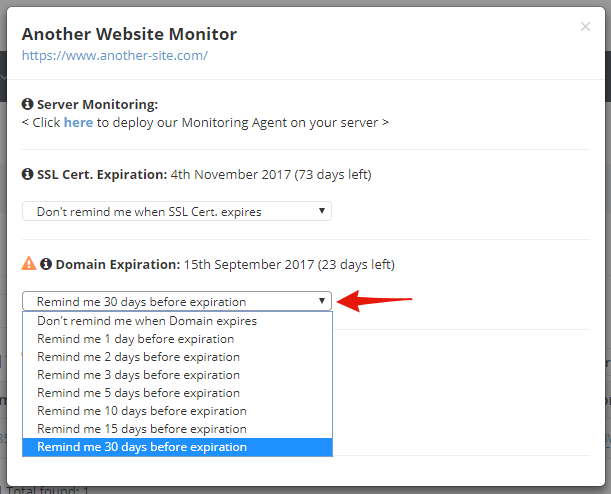 These notifications are sent daily (one per day per uptime monitor), starting off X days before the expiration date (i.e.: if you select the 10 days option, you will receive one notification per day for the last 10 days before your certificate will expire).
*Please note that the notifications will be sent to the Uptime Monitor contact list, just as a regular Offline/Online status notification.
**If your Uptime Monitor has no contact list assigned to it, then there will be no Domain Expiration notifications sent, regardless of the setting you select above.
***The default setting for Domain Expiration notifications is disabled, so you will not receive such notifications from us, unless you configure this setting as described above.