[May 20, 2017]
Starting with 1st of June 2017, our Business and Enterprise Blacklist Monitoring packages will suffer some changes in their pricing structure.  
Each of these two packages will have selectable options for how many monitors you can have and for how frequently these monitors will be checked.  
You can select between 2048 or 4096 monitors on the Business package and between 8192 or 16384 monitors on the Enterprise package.  
The monitoring frequency, for both of these packages will vary from every 24 hours to every 2 hours.  
The pricing will be dynamic and will change based on your selected options for each package, as show in the table below: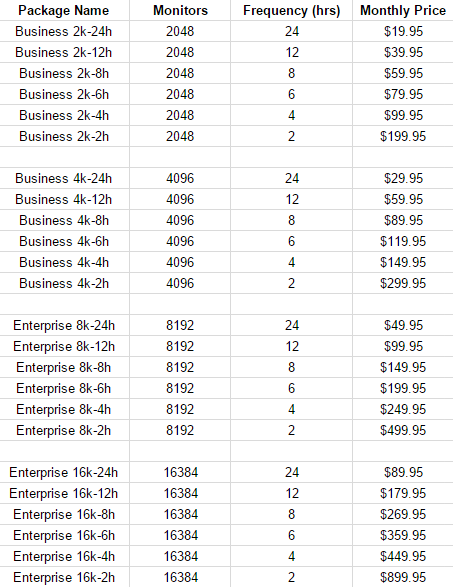 *Yearly price is monthly price x10 (2 months are free on yearly payments).  
Please note:
These changes will come in effect on 1st of June 2017 and will only affect orders placed on and after this date.
All existing active orders will maintain their current pricing structure, for as long as the order remains active.
These changes affect only our Business and Enterprise packages, leaving the Free, Personal and Professional packages unchanged.
There are no changes for our Uptime Monitoring prices at this time.
Why the price increase?
We've entered this market, 2 years ago, with extremely low prices in order to be competitive to attract new business and start growing our client base. As the platform grew bigger and bigger, these low prices started to weigh in more and more on our ability to keep up with the ever growing costs for our infrastructure, staff and further development. As a result, we needed to gradually start increasing our prices, in order to better reflect our expenses, work and service quality.
Don't worry, though, if you're an already existing client, you will not have to pay anything extra. Your current pricing will not change for as long as you keep your order active.
Even with these new prices, our main competitor, MxToolbox, is still 400% up to 1050% more expensive than our blacklist monitoring service, meaning that our new prices are still very competitive in today's industry.
If you have any questions or concerns, please open a support ticket on our website.