You can easily add your own Twitter Feed to any of your Bulk Reports in order to keep your users updated in real time of what's going on with your network.
The steps to do this are extremely simple.
From your Bulk Reports page, find the Bulk Monitor you wish to add the Twitter Feed to and click the Actions button, then click the Twitter Feed button:

A pop-up will open where you can input your Twitter Username, and select the position of the Twitter Feed on your Bulk Report: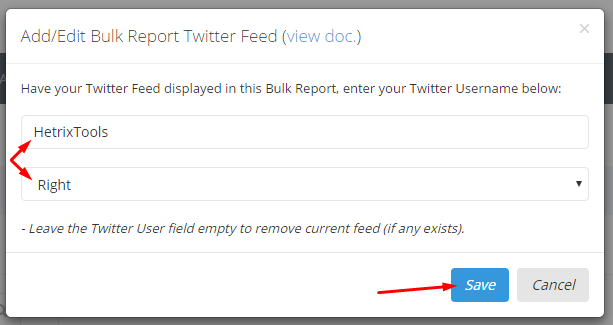 And you're all done.
Now your Twitter Feed will appear either on the right or left side of your Bulk Report.
You can use this Twitter Feed to keep your users updated on the latest network status.
* If you wish to remove the Twitter Feed from any of your Bulk Report, just do the exact steps as described above, and just leave the Twitter Username field empty.